Meet Dr. Sean Hembree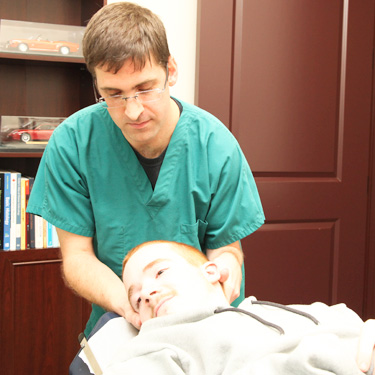 At a very young age, Dr. Hembree knew he wanted to help people by becoming a doctor. He grew up watching his father care for people through the power of chiropractic, helping them get well, without the use of drugs or surgery. After high school, Dr. Hembree chose to pursue chiropractic himself. After deciding to become a chiropractor, he never looked back.
Dr. Hembree attended Parker University College of Chiropractic, earning both his Bachelor of Science degree in Health and Wellness and Doctor of Chiropractic.
Overcoming Challenges
"I've had many challenges throughout my life that I've had to overcome in order to get where I am today. I could have either given into the hardships those challenges created or dream big and pursue my passions no matter how hard it was. When faced with challenges in both my personal and professional life, I have stopped at nothing to find a solution. I continue to do this for myself as well as for my patients."
Helping Others Say Goodbye to Aches and Pains
Dr. Hembree is dedicated to enabling people to live a pain-free and healthy lifestyle at Hembree Chiropractic. "There is nothing more motivating than using my learned skills to help relieve someone of pain. It is the best feeling in the world when someone comes to you for help, and they walk out feeling better."
CHIROPRACTIC CARE »
Enjoying Life in Southwest Arlington
Dr. Hembree grew up in Lewisville, Texas. In 2018 he married his beautiful wife, Jennifer, and moved to Arlington where he opened his practice. In addition to assisting in the practice, Jennifer is an elementary school teacher in the Arlington Independent School District. In summer 2020, Dr. Sean and Jennifer welcomed their first child, Liam. The Hembrees love living and serving together in Arlington and the surrounding communities. Dr. Hembree loves to spend time with his family, is an avid car enthusiast, and, in his spare time, he enjoys singing and playing the guitar.
Experience firsthand how chiropractic can improve your health and life. Contact us today to book a same-day appointment with Dr. Hembree. Be sure to ask about our new patient special!

Dr. Sean Hembree | 817-583-8266