About Us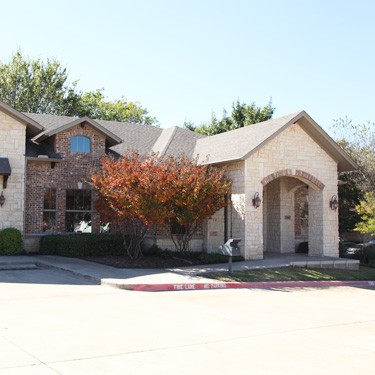 After graduating from Parker University in 2013, Dr. Sean Hembree gained experience practicing in some high-volume practices prior to opening Hembree Chiropractic. In June 2018 Dr. Hembree got married. He and his wife now live in the southwest Arlington area and have chosen to open Hembree Chiropractic in the community in which they live.
Hembree Chiropractic Goals
The body has the power to heal itself. Chiropractors remove the interference to allow the body to do so and function at its optimal ability. We strive to
Get patients out of pain
Keep them out of pain
Educate patients about alternative health care without the use of medications
Serving Arlington and Our Surrounding Communities
We're proud to serve Arlington and the surrounding communities of Kennedale, Mansfield, Fort worth, Duncanville, and Grand Prairie. Ours is a kid-friendly family practice, with special rates for our youngest patients. We welcome patients with disabilities. We also appreciate the hard work and sacrifice of our first responders, military, and school teachers. To show our gratitude, we offer them an all the time 20% discount for all services (ID required).
The Importance of Maintenance Care
Just like we perform routine maintenance on our cars, our spine needs regular tune-ups. You can always get a new car but you only have one spine, so it's vital that you take care of it. Remember that just because you may not have pain, it doesn't mean something isn't wrong. Pain is a symptom of dysfunction. By the time your body feels pain, your nerves have lost 70% of their normal function. The goal with regular maintenance is to prevent your body from reaching this state of dysfunction.
MEET DR. HEMBREE »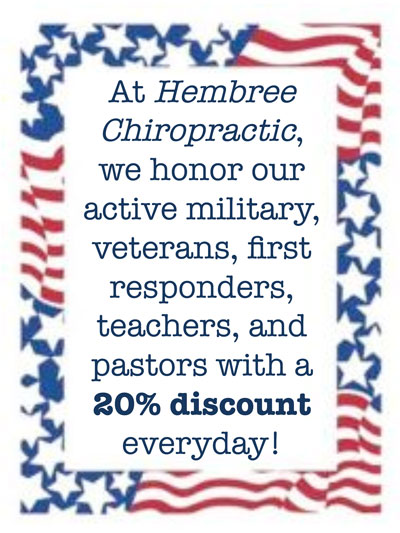 Myths and Truths about Chiropractic
Myth: "I saw a chiropractor once but it didn't help."
Truth: The truth is that it takes more than one visit for your body to accommodate to a new normal and feel 100%. Likely, your body did not acquire back pain overnight. It is not going to go away that quickly either. It takes time to reprogram the body to its new healthy normal. This occurs through consistent chiropractic treatment over the course of weeks.
Myth: "Chiropractors only work on spines."
Truth: The truth is that your chiropractor knows about more than just your backbone. Chiropractors can advise patients about nutrition, fitness, ergonomics and other healthy lifestyle habits. Other than specialties and the differences in learning to adjust and learning to prescribe medicine, chiropractic students and medical students complete very similar curricula.
Myth: "D.C.'s crunch bones."
Truth: The sound is merely from gas escaping the joint space. The bones themselves are not "cracking" or "crunching."
Myth: "I'm not hurting. I'm fine."
Truth: The truth is that pain is the last symptom of dysfunction. By the time your body is experiencing pain, you have lost 70% of the nerve function. Also, having your spine checked periodically is good wellness practice. Just as you see the dentist and other doctors for wellness checks, so you should see your chiropractor to have your spine checked. Contact our Southwest Arlington chiropractic office today to book an appointment. Ask about our new patient special!

About Hembree Chiropractic | 817-583-8266